Chic Choc Backcountry Skiing with AIARE Level 1 Avalanche Course

The unique nature of this location allows us to incorporate more backcountry skiing than other courses in the northeast while also completing the AIARE Level 1 Avalanche Course. This course is a must for all who travel into the mountains in winter and will help you develop a better understanding of safe winter travel. It is also a great tune up for winter travelers who have some experience or prior training.
Participants will learn about avalanche hazard formation through the relationships of terrain, snowpack, weather and people. You will also learn about interpreting forecasts, trip planning considerations, route selection, travel techniques, educated decision making, and search and rescue skills including use of transceivers and probes.
The course combines classroom skills with field time to help you to answer these questions: Where is the danger? When is it dangerous? Should we go on? What do I do if caught?
Date & Location

Travel currently not allowed. As soon as Canada opens we will schedule, Chic Chocs, Parque de la Gaspesie, Quebec

Inclusions
Includes four days of spectacular backcountry skiing and 4 nights lodging, all breakfasts and dinners.


Professionally guided by AMGA trained or certified ski guides.

Lodging in

a warm, modern roadside huts

with electricity, wood heat and shared bathroom / hot showers.

Trailheads within short

20 minute

drive from

hut

Ratio: maximum of 5

clients / guide

All group and emergency gear provided.
Exclusions
Annual park pass (appx $40.00)
Personal gear
Transportation to / from Chic Chocs
Evening beverages / pub visits
Quarters for the showers
Instructor / Guide Gratuities
Length & Difficulty
5 days / 4 nights inclusive of travel days. Tailored toward strong intermediate / expert skiers and riders who ski or ride ♦ with control  at major New England resorts.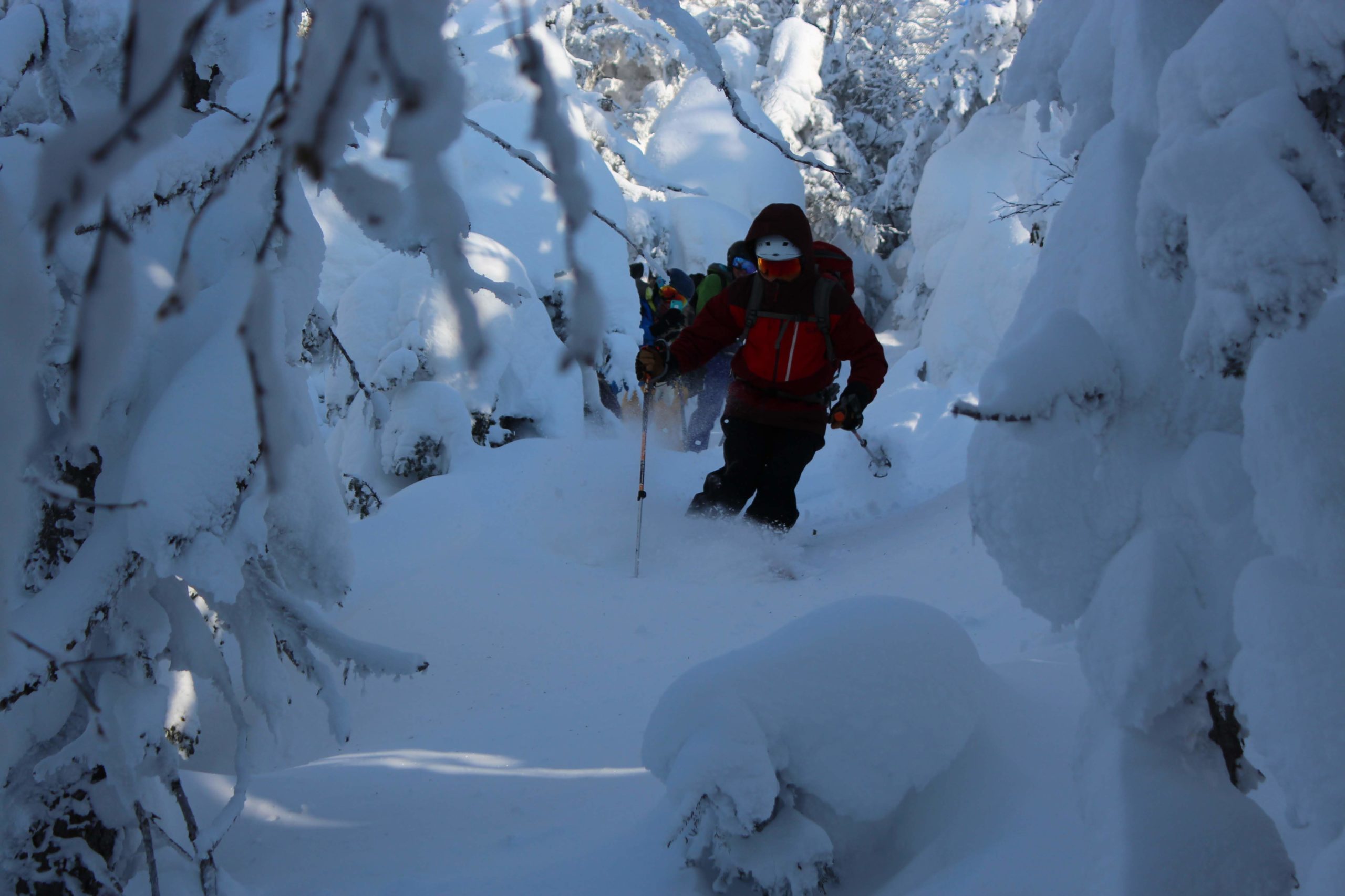 AMGA ACCREDITED
• Since 1994 •
AMGCS is one of 32 AMGA accredited programs in the US and was one of the earliest to pursue and achieve accreditation. AMGCS is the only climbing school in Maine to remain continuously AMGA accredited. We have had one or more full time AMGA rock guides on staff each year since 1994.
IFMGA Led
Owned by internationally recognized IFMGA/AMGA Mountain Guide Jon Tierney who has been climbing in Acadia since 1982. Jon has over 30 years of local and worldwide experience. The IFMGA requires full AMGA certification as a rock, alpine and ski mountaineering guide.
All instructors are certified as AMGA or PCIA Single Pitch Instructors and all guides have been trained or certified by the AMGA.
PCIA Accredited
• Since 2007 •
AMGCS has the distinction of also being accredited to the highest standards of the Professional Climbing Instructors Association. The PCIA requires all staff to be individually trained and certified.
Save 15% on
All Gear and Clothing
Become a client of Acadia Mountain Guides and receive a permanent 15% off MSRP on purchases in our stores or at AlpenglowGear.com.

AMGCS also rents outdoor equipment for your convenience. All clients receive 25% off rental equipment for use on our courses.
See what we have.