Rockpro iII
SPORT climbing CAMP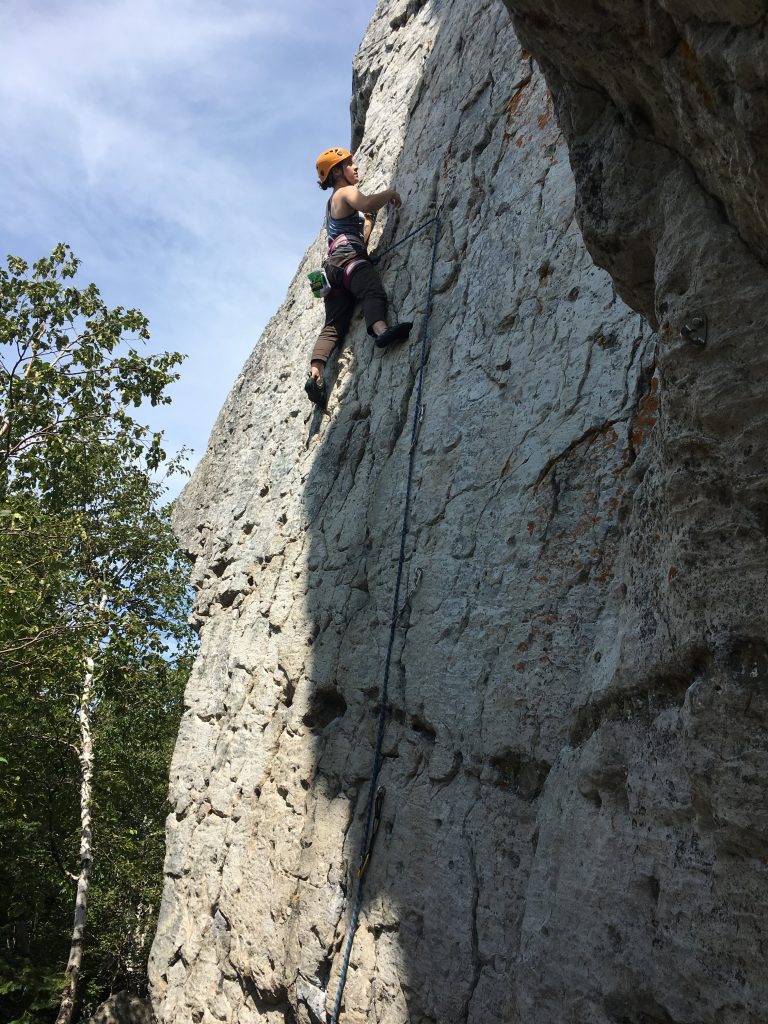 Ages 13 – 18.

Our goal is to introduce campers to sport lead climbing (climbs with pre-drilled bolts). The week focuses on improving climbing techniques in steep climbs and transition from climbing to descending from fixed anchors. You will build friendships, independence, and strength in the great outdoors of Maine!
This camp focuses on climbing bolted sport routes and learning to lead them. Many campers in our prior camps have led routes from 5.5 – 5.12 in difficulty.
Campers will learn many essential sport climbing skills including bolt placement and assessment, correct hanger clipping, lowering off, and transitioning to rappels from climbing.
FIRST ASCENTS! Campers frequently get to work with IFMGA guide Jon Tierney to select, clean, drill and place bolts on a few new routes in the Clifton Crags. And of course, if you created it, you get to try to lead it and name it.
It wouldn't be a climbing camp without lots of time on the rock honing your movement skills and learning new techniques & tricks to increase your climbing efficiency, either on a lead or with the added mental security of a top-rope depending on what you & your guides think you're ready for.
Depending on the session, RockPro III camps will visit 1 or 2 of best sport climbing areas in the Northeast including eastern Canada.
Please fill out an application BEFORE you pay your deposit. We want to make sure that our RockPro III campers have the requisite fundamental skills required to maximize their experience in this camp.
It is appropriate for campers who have enough climbing experience (either in a gym or outdoors) to be comfortable with fundamental skills such as belaying, top-roping, and basic climbing movement. We highly recommend completing RockPro II prior to this camp. There is less focus on introductory climbing techniques in this course and more emphasis on learning to lead bolted sport climbs.
Dates, Location & Pricing
| | | |
| --- | --- | --- |
| June 25 – July 1 | Clifton Crags and Camden, ME | $1800 |
| July 2 – 8 | Clifton and Rumney Rocks, NH | $1800 |
| July 9 – 15 | Clifton and Kamouraska, Quebec | $1800 |
| July 23 – 29 | Clifton Crags and Camden, ME | $1800 |
| July 30 – August 5 | Clifton and Rumney Rocks, NH | $1800 |
| August 6 – 12 | Clifton and Kamouraska, Quebec | $1800 |
Drop Off and Pick Up Location for Maine Based Camps
Alpenglow Adventure Sports: 753 Stillwater Ave, Bangor, ME
Drop-Off: 11 am • Pick-Up: 10 am
Drop Off and Pick Up Location for
Rumney Camp (July 31 – 6)

AMC Pinkham Notch Visitor Center
Drop-Off: 11 am • Pick-Up: 10 am
Alternative Pick up / Drop of for the NH camp also available at our base. Alpenglow Adventure Sports: 753 Stillwater Ave, Bangor, ME
Drop-Off: Saturday, July 30th after 5:00 pm Pick-Up: Saturday after 3:30 pm
Inclusions
Seven days of instruction in the given location
Professionally led by trained trip leaders possessing Maine Trip Leader Certification, Wilderness First Responder and PCIA Single Pitch Climbing Instructor certification.
Meals from noon Day 1 until breakfast of final day.
Ratio: maximum of 6 climbers / leader when climbing.
Camping at an established campground with; bathrooms, coin-operated showers, and a pool 
Trailheads within a short 10-15-minute drive from our camping area
Exclusions
Length and Difficulty
AMGA ACCREDITED
• Since 1994 •
AMGCS is one of 32 AMGA accredited programs in the US and was one of the earliest to pursue and achieve accreditation. AMGCS is the only climbing school in Maine to remain continuously AMGA accredited. We have had one or more full time AMGA rock guides on staff each year since 1994.
IFMGA Led
Owned by internationally recognized IFMGA/AMGA Mountain Guide Jon Tierney who has been climbing in Acadia since 1982. Jon has over 30 years of local and worldwide experience. The IFMGA requires full AMGA certification as a rock, alpine and ski mountaineering guide.
All instructors are certified as AMGA or PCIA Single Pitch Instructors and all guides have been trained or certified by the AMGA.
PCIA Accredited
• Since 2007 •
AMGCS has the distinction of also being accredited to the highest standards of the Professional Climbing Instructors Association. The PCIA requires all staff to be individually trained and certified.
Save 15% on
All Gear and Clothing
Become a client of Acadia Mountain Guides and receive a permanent 15% off MSRP on purchases in our stores or at AlpenglowGear.com.

AMGCS also rents outdoor equipment for your convenience. All clients receive 25% off rental equipment for use on our courses.
See what we have.