Rockpro iII
SPORT climbing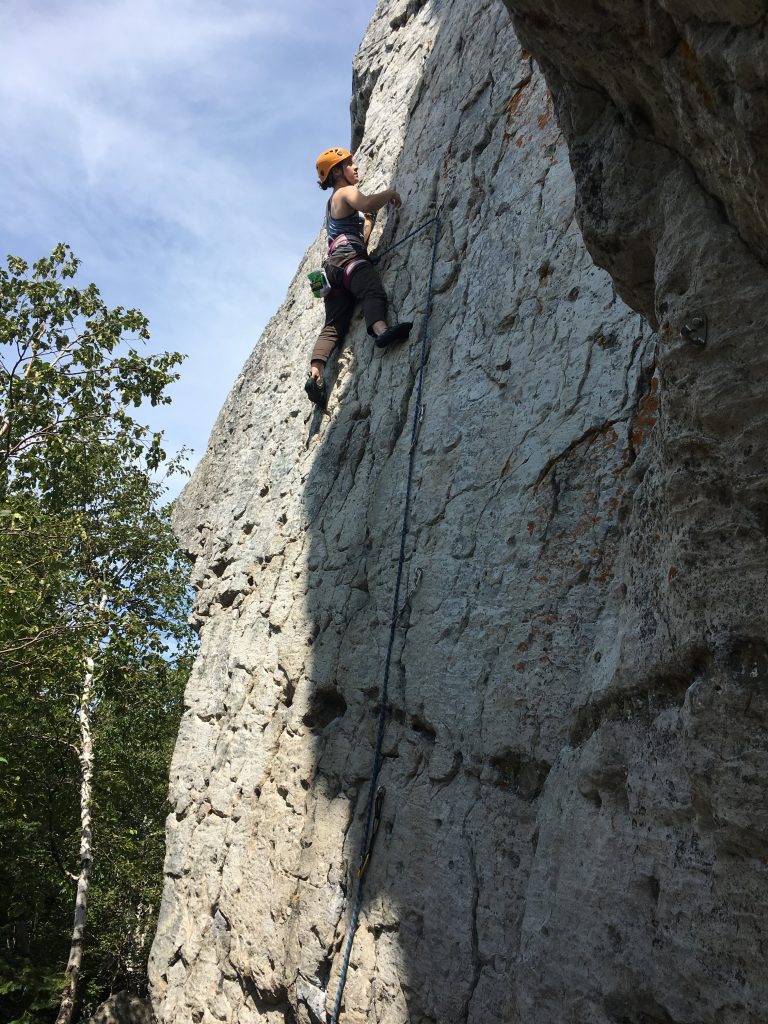 Learn Sport Climbing Technique
Please fill out an application BEFORE you pay your deposit. We want to make sure that our RockPro III camps have campers that are advanced in their skills enough to lead.
In these camps, we'll be learning to climb for one-two weeks! Our goals are to introduce sport lead climbing. Focus on improving climbing techniques in steep climbs and transition from climbing to descending over a fixed point. Over these weeks, we will build friendships, independence, and strength in the great outdoors of Maine!
RockPro III is a fun and intense week(s) that will improve your technical skills dramatically, lead skills and give you the confidence to start setting up your own sport routes.
This camp focuses on climbing bolted sport routes and learning to lead them. Many campers in our prior camps have led routes from 5.8 – 5.12 in difficulty.
It is appropriate for students who have enough climbing experience (either in a gym or outdoors) to be very comfortable with fundamental skills such as belaying, top-roping, and basic climbing movement. We highly recommend completing RockPro III prior to this camp, although it is not a requirement. There is less focus on introductory climbing techniques in this course and more emphasis on learning to lead bolted sport climbs.
Campers will learn many essential sport climbing skills including bolt placement and assessment, correct hanger clipping, lowering off, and transitioning to rappels from climbing.
FIRST ASCENTS! Campers frequently get to work with IFMGA guide Jon Tierney to select, clean, drill and place bolts on a few new routes in the Clifton Crags. And of course, if you created it, you get to try to lead it and name it.
It wouldn't be a climbing camp without lots of time on the rock honing your movement skills and learning new techniques & tricks to increase your climbing efficiency, either on a lead or with the added mental security of a top-rope depending on what you & your guides think you're ready for.
We highly recommend completing RockPro II prior to this although it is not required. If you have some climbing experience and would like to learn more about sport climbing techniques then this is the course for you.
The Quebec session is canceled for 2021 but would usually visit Maine's largest sport climbing area in Clifton and then journey to climb on the white cliffs of southern Quebec along the Saint Lawrence waterway.
This Session will travel to Rumney Rocks in New Hampshire. Both areas are known for their excellent sport climbing routes.
 Dates, Content & Pricing
| | | |
| --- | --- | --- |
| June 21- July 3, 2021 |  Clifton & Rumney, NH  | $3000 |
Pick-up and Drop-Off Locations
Alpenglow Adventure Sports (Orono): 92 Main St, Orono, ME 04473


Drop-Off Day: 8:00 am
Pick-Up Day: 1:00 pm

New Hampshire pick up and drop off may be possible on this camp. Please contact the Camp Manager for more information. 
Sample Itinerary
Day 1:
Travel to Pawtuckaway State Park, NH (campers may be dropped off in NH if desired)
Day 2:
Sample Bouldering, Top Rope Climbs and Review Core Climbing Principles
Day 3- 6:
Travel to Rumney, NH for great sport climbing at New England's most well known sport climbing crag.
Day 7:
Return to Orono base and travel home or rest up for the next week of camp.
Inclusions
Exclusions
AMGA ACCREDITED
• Since 1994 •
AMGCS is one of 32 AMGA accredited programs in the US and was one of the earliest to pursue and achieve accreditation. AMGCS is the only climbing school in Maine to remain continuously AMGA accredited. We have had one or more full time AMGA rock guides on staff each year since 1994.
IFMGA Led
Owned by internationally recognized IFMGA/AMGA Mountain Guide Jon Tierney who has been climbing in Acadia since 1982. Jon has over 30 years of local and worldwide experience. The IFMGA requires full AMGA certification as a rock, alpine and ski mountaineering guide.
All instructors are certified as AMGA or PCIA Single Pitch Instructors and all guides have been trained or certified by the AMGA.
PCIA Accredited
• Since 2007 •
AMGCS has the distinction of also being accredited to the highest standards of the Professional Climbing Instructors Association. The PCIA requires all staff to be individually trained and certified.
Save 15% on
All Gear and Clothing
Become a client of Acadia Mountain Guides and receive a permanent 15% off MSRP on purchases in our stores or at AlpenglowGear.com.

AMGCS also rents outdoor equipment for your convenience. All clients receive 25% off rental equipment for use on our courses.
See what we have.