SATURDAY
YOUTH ROCK climbing
SUMMER 2022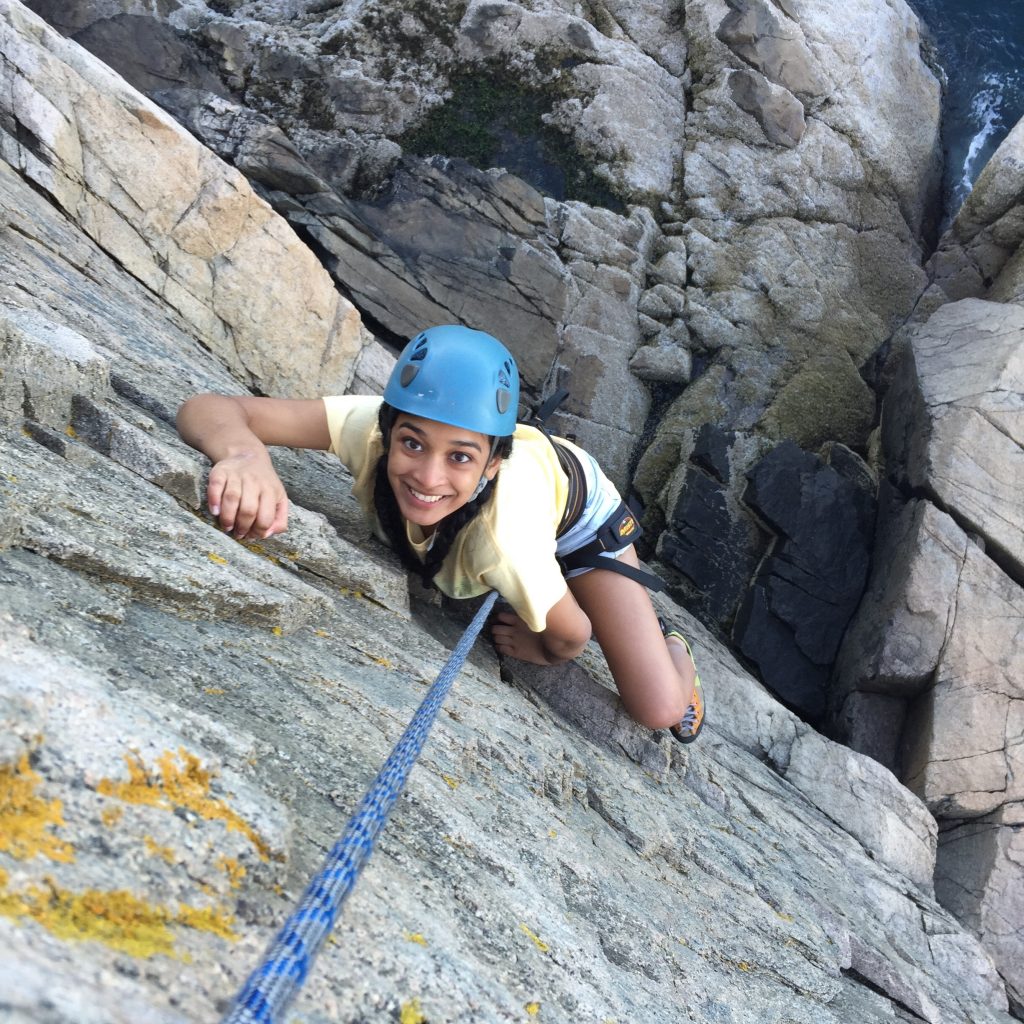 2022. Climb, Climb, Climb!
Open to Ages 8 – 15, 7:30 am to 5:30 pm

Join us for a day or for a summer on the rock. This camp meets every Saturday from early June to late August. Climbers can come for as many days as desired.

Throughout the summer we will visit a variety of climbing areas in and around Acadia National Park. Each day will be a different rock climbing adventure as there are a great many rock climbs to sample from – some easy, some way hard and some just right. Our goals are to learn about basics in rock movement, belaying, rappelling, and knots. Climbing provides a great boost in self-confidence and builds friendships, independence, and strength all in the great outdoors of Maine!
2022 Saturday Youth Rock Climbing Dates, Climbing Destination, Tuition
 June 4


Acadia National Park



$60.00

 June 11


 

Acadia National Park

 $60.00

June 18


Acadia National Park

$60.00
June 25
 

Acadia National Park

$60.00

July 2
 

Acadia National Park

$60.00
Register for multiple camps and save
$60.00 per session, 5 sessions $55.00 each, 6+ sessions $50.00 each

Sibling Discount
For every camper from same family after the first who are registered for the same camp save $5.00 additional dollars per session.

Refer a Friend Discount
For returning campers, bring a friend with you to camp and get a  $5.00 credit toward your camp(s). Be sure to tell your friend to say that you referred them so you get your credit.
Shuttle Service
Orono  ->  Brewer  ->  Ellsworth  ->  Bar Harbor
Alpenglow Adventure Sports: 92 Main St, Orono, ME
Drop-Off: 7:30 am    •    Pick-Up: 5:30 pm
Brewer Auditorium: 318 Wilson St, Brewer, ME
Drop-Off: 8:00 am    •   Pick-Up: 5:00 pm
Ellsworth McDonalds: 259 High St, Ellsworth, ME
Drop-Off: 9:00 am    •   Pick-Up: 4:00 pm
Acadia Mountain Guides Office: 228 Main St, Bar Harbor, ME
Drop-Off: 9:30 am    •   Pick-Up: 3:30 pm
Inclusions
Professionally led by trained trip leaders possessing Maine Trip Leader Certification, Wilderness First Responder and PCIA Single Pitch Climbing Instructor certification.
All climbing equipment provided. 
Ratio: maximum of 6 climbers / leader when climbing.
Exclusions
Length and Difficulty
AMGA ACCREDITED
• Since 1994 •
AMGCS is one of 32 AMGA accredited programs in the US and was one of the earliest to pursue and achieve accreditation. AMGCS is the only climbing school in Maine to remain continuously AMGA accredited. We have had one or more full time AMGA rock guides on staff each year since 1994.
IFMGA Led
Owned by internationally recognized IFMGA/AMGA Mountain Guide Jon Tierney who has been climbing in Acadia since 1982. Jon has over 30 years of local and worldwide experience. The IFMGA requires full AMGA certification as a rock, alpine and ski mountaineering guide.
PCIA Accredited
• Since 2007 •
AMGCS has the distinction of also being accredited to the highest standards of the Professional Climbing Instructors Association. The PCIA requires all staff to be individually trained and certified.
Save 15% on
All Gear and Clothing
Become a client of Acadia Mountain Guides and receive a permanent 15% off MSRP on purchases in our stores or at AlpenglowGear.com.

AMGCS also rents outdoor equipment for your convenience. All clients receive 25% off rental equipment for use on our courses.
See what we have.