WILDERNESS ADVANCED LIFE SUPPORT (WALS)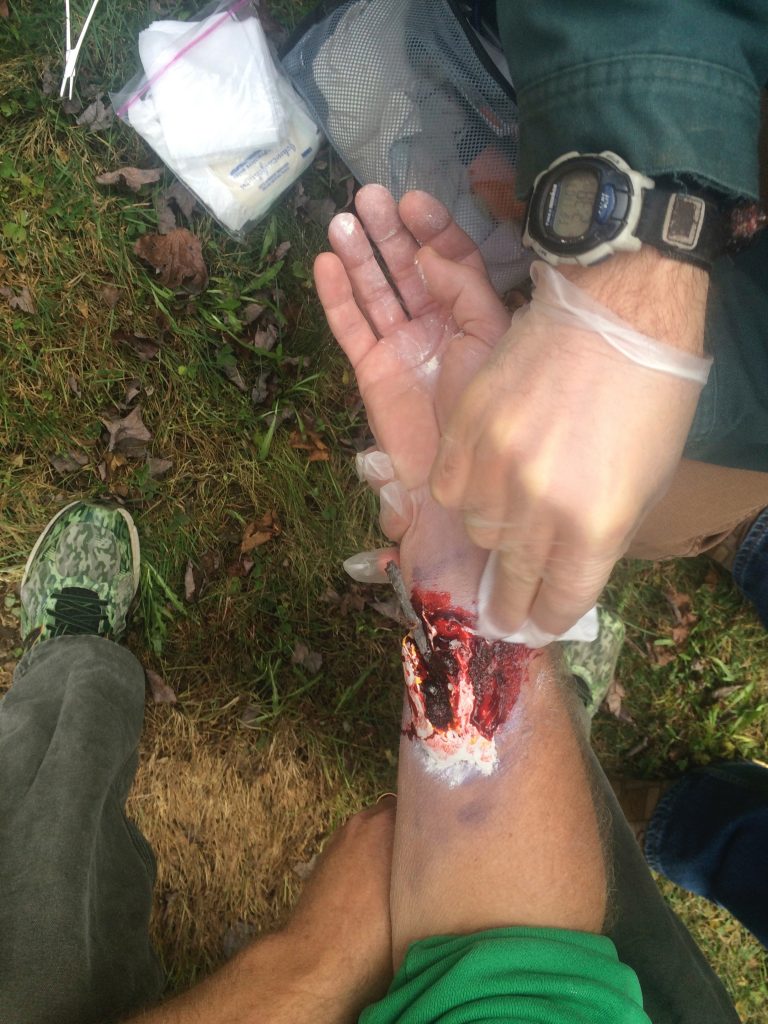 Learn Practical Skills For The Outdoors!
This program's primary goal is to apply current medical knowledge and critical thinking for use in remote/resource challenged patient care settings.  It is targeted toward advanced care medical practitioners.
The Wilderness Advanced Life Support (WALS) is Wilderness Medical Associates International's most advanced level course. Our 36-hour course is run over 4 days.  It is open to certified or licensed advanced level medical practitioners (MD/DO, RN, NP, RN, paramedic or an AEMT with ALS experience) involved or interested in rescue, mass casualty, and remote outdoor environments or urban areas in disaster or crisis. This constantly-evolving course is highlighted by discussions of new and controversial ideas and the appropriate application of technologies. The learning environment is challenging, stimulating, and fun.
Description
WMAI courses present nationally recognized curricula. The style of the course is the result of input from outdoor educators, medical experts, search and rescue personnel, and field providers. Certification through Wilderness Medical Associates International will be granted following successful completion of the course. 
The Wilderness Advanced Life Support (WALS) curriculum is written in-house by a team of medical and rescue professionals and researchers. We do the research and find the evidence supporting this unique approach to medicine in austere settings. The curriculum is comprehensive, complete, and kept current on an annual basis. We believe that this is the most relevant and peer supported medical curriculum for remote and extreme environments in the world.
Day 1 – Logistics and Introduction; General Concepts in Wilderness Medicine; Patient Assessment System (PAS) with drills; Critical Systems Summary; Anaphylaxis; Spine Assessment and Treatment with PAS Drills; Wrap-up
Day 2 – Homework Review; Pain Management; Musculoskeletal; Limb Splinting; Dislocation with Reduction Demos and Practice; Wounds/Burns; Thermoregulation; Small Group BLS Simulations; Wrap-up
Day 3 – Homework Review; Altitude; Cold Injuries; Lightning; Medical Aspects of Avalanche; ALS Tools/Appropriate Technology; SAR/Organization/Roles; Night Simulation
Day 4 – Homework Review; Drowning; SCUBA; Toxins/Vectors; Expedition Practitioner/Backcountry Medicine; First Aid Kits; Medical Legal; Review; Wrap-up
Date & Location

December 9-12, 2022
Gorham, NH

Tuition
MD/DO: $995.00
PA/NP: $875.00
Use promocode PANP at checkout
RN / Paramedic / AEMT:
$795.00
Use promocode NURSE at checkout
Space is limited, register early.
Length & Difficulty
This course is 36 hours taught over 4 days.
In class, students will be expected to participate in discussions, outside practical sessions and outside real-life scenarios.
Inclusions
Exclusion
It matters who teaches your course! Don't let your instructor be the limiting factor for your learning. Jon Tierney will the primary instructor for this course.
Jon is one of the nation's most experienced wilderness medicine instructors with thousands of teaching days and tons
of real-life mountain rescue and EMS experience. He is an IFMGA internationally licensed mountain guide as well as a practicing Flight Paramedic and RN. Jon brings a unique blend of educational delivery and field experience in outdoor leadership, mountain guiding, backcountry rescue and emergency medicine spanning over three decades.
Jon is often assisted by a number of talented instructors that includes highly experienced paramedics, ER/Critical Care and Flight nurses, and strong outdoor educators and guides. 
AMGA ACCREDITED
• Since 1994 •
AMGCS is one of 32 AMGA accredited programs in the US and was one of the earliest to pursue and achieve accreditation. AMGCS is the only climbing school in Maine to remain continuously AMGA accredited. We have had one or more full time AMGA rock guides on staff each year since 1994.
IFMGA Led
Owned by internationally recognized IFMGA/AMGA Mountain Guide Jon Tierney who has been climbing in Acadia since 1982. Jon has over 30 years of local and worldwide experience. The IFMGA requires full AMGA certification as a rock, alpine and ski mountaineering guide.
All instructors are certified as AMGA or PCIA Single Pitch Instructors and all guides have been trained or certified by the AMGA.
PCIA Accredited
• Since 2007 •
AMGCS has the distinction of also being accredited to the highest standards of the Professional Climbing Instructors Association. The PCIA requires all staff to be individually trained and certified.
Save 15% on
All Gear and Clothing
Become a client of Acadia Mountain Guides and receive a permanent 15% off MSRP on purchases in our stores or at AlpenglowGear.com.

AMGCS also rents outdoor equipment for your convenience. All clients receive 25% off rental equipment for use on our courses.
See what we have.