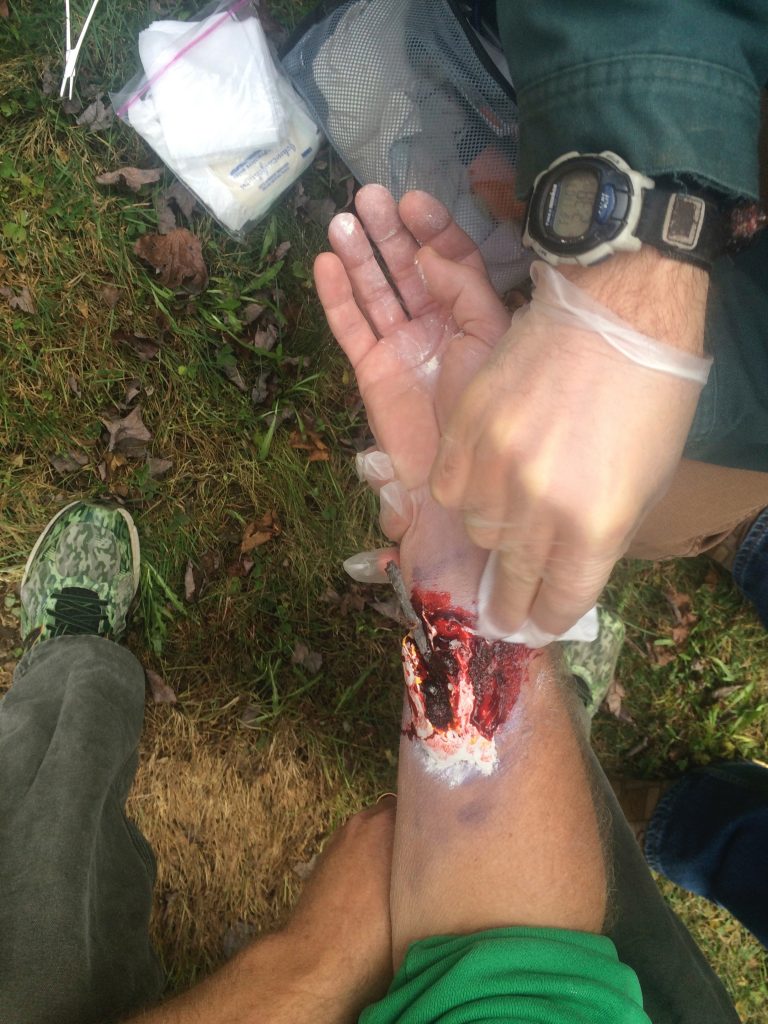 Practical remote medical skills for medical professionals!
The WEMS Upgrade course builds on the EMS professional's training and expertise to meet the special challenges of unconventional settings. It is designed for EMS personnel working in search and rescue, disaster response, remote job posts, and on wilderness expeditions. The curriculum emphasizes wilderness medical protocols, use of appropriate technology, prolonged patient care and the leadership role in managing medical emergencies in the field.

This intensive 5-day (45 hour) course will upgrade state EMS certifications to Wilderness EMS provider. Current certification at or above the basic level is a prerequisite for admission. The course covers a wide spectrum of emergency care topics relative to wilderness medicine and caring for injuries and illnesses over prolonged periods of time. 
Be better prepared for a remote accident? Learn best practices? Broaden your critical thinking and problem solving skills.

Improve your assessment and scene leadership skills. Further your risk benefit and decision making skills. Understand real shock. Learn to safely move spine injured patients. Treat ugly wounds and broken bones with greater confidence. Administer epinephrine for severe airway constriction. Reduce dislocated shoulders in the field. Recognize situations you can manage alone and when you need to scream for help.

Each day is devoted to classroom interaction and outdoor practical skills. You should expect scenarios with made up victims and simulated wounds to occur continuously throughout the course. 

The course combines discussions, practical stations and real-life simulations. Topics include assessment and management of traumatic injuries such as fractures, burns and wounds; circulatory, nervous, and respiratory system problems; common injuries such as blisters, sprains and strains; medical problems such as anaphylaxis, toxins, altitude, hypothermia, hyperthermia, and infections; and use of improvised materials in remote situations. The course includes information on personal outdoor preparedness, accident management and prevention and introduces you to simple evacuation techniques and rope work. 

Three year certification through Wilderness Medical Associates International will be granted following successful completion of the course.

Date & Location

Jan 13 – 17, 2021
8:30am – 6:00pm
Bar Harbor, ME

Pricing 
$625.00.
Space is limited, register early.
Length and Difficulty
This course requires 45 hours of classroom and scenario based instruction. You will be expected to participate in discussions, outside practical sessions and outside real-life scenarios.
Inclusions
Exclusions
Owner and IFMGA/AMGA Mountain Guide
IFMGA Licensed International Mountain Guide | AMGA Certified Rock Guide | AMGA Certified Ski Mountaineering Guide | AMGA Certified Alpine Guide | Flight Paramedic | B.S. Parks and Forest Recreation
AMGA ACCREDITED
• Since 1994 •
AMGCS is one of 32 AMGA accredited programs in the US and was one of the earliest to pursue and achieve accreditation. AMGCS is the only climbing school in Maine to remain continuously AMGA accredited. We have had one or more full time AMGA rock guides on staff each year since 1994.
IFMGA Led
Owned by internationally recognized IFMGA/AMGA Mountain Guide Jon Tierney who has been climbing in Acadia since 1982. Jon has over 30 years of local and worldwide experience. The IFMGA requires full AMGA certification as a rock, alpine and ski mountaineering guide.
All instructors are certified as AMGA or PCIA Single Pitch Instructors and all guides have been trained or certified by the AMGA.
PCIA Accredited
• Since 2007 •
AMGCS has the distinction of also being accredited to the highest standards of the Professional Climbing Instructors Association. The PCIA requires all staff to be individually trained and certified.
Save 15% on
All Gear and Clothing
Become a client of Acadia Mountain Guides and receive a permanent 15% off MSRP on purchases in our stores or at AlpenglowGear.com.

AMGCS also rents outdoor equipment for your convenience. All clients receive 25% off rental equipment for use on our courses.
See what we have.