Rockpro i
YOUTH ROCK climbing
Camp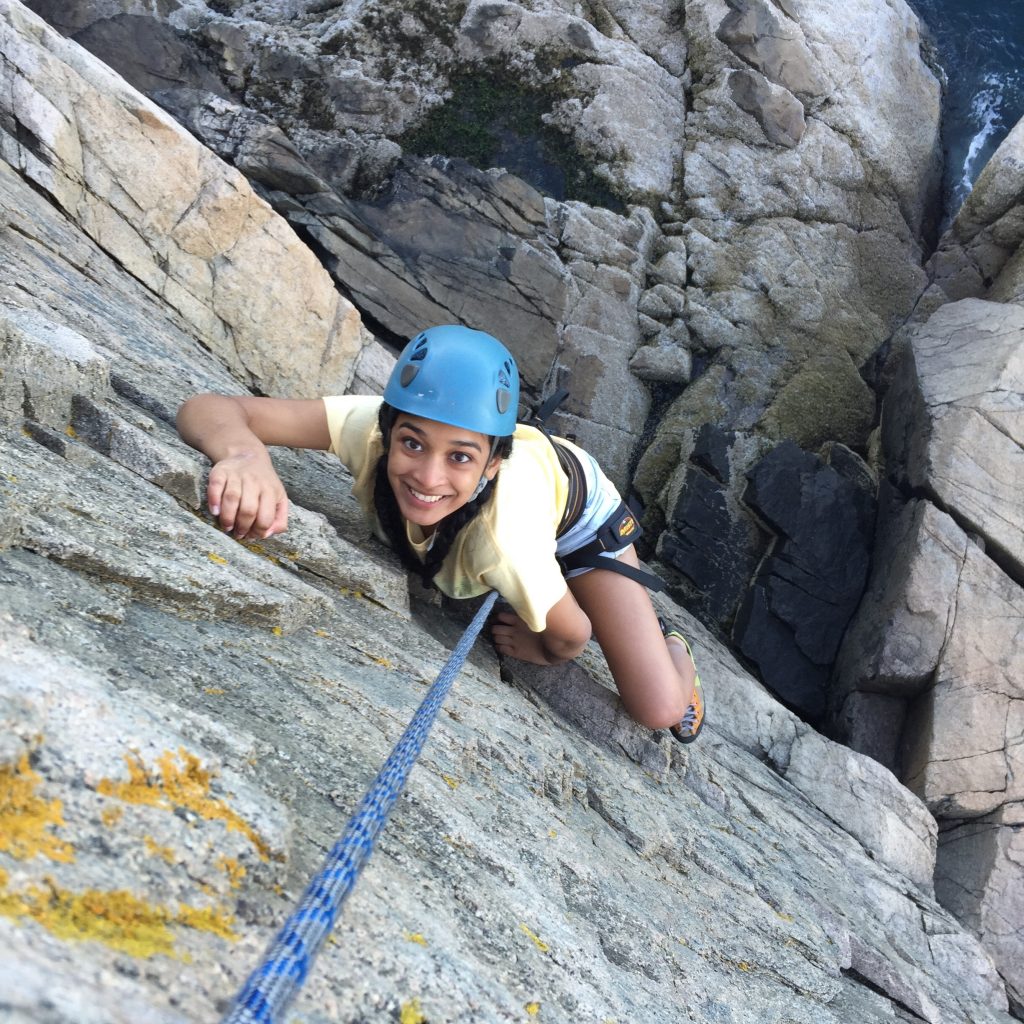 Learn the basics of rock climbing!
Ages 9 – 13 or grades 4th – 7th

RockPro I campers will spend five days climbing on the rock and learning climbing safety skills! Our goals are to learn about basics in rock movement, belaying, rappelling, and knots. Climbing provides a great boost in self-confidence and builds friendships, independence, and strength all in the great outdoors of Maine!
Each day will be a different rock climbing adventure as there are a great many rock climbs to sample from – some easy, some way hard and some just right. The RockPro I Youth Rock Climbing Camp is for kids who want to spend most of the day rock climbing. When the muscles or mind tire from climbing it will be time to hike, climb, swim, get on the water with a paddle board or canoe or simply relax in nature. We explore the mountains and coastal cliffs of Acadia with some camps also traveling to the Clifton Crags and Camden Hills State Park.
The course is appropriate for those who are excited to learn but new to climbing, no experience is required. Campers will begin roped climbing right away on day one while being belayed by skilled instructors. As camp progresses campers will develop responsibility and trust as the learn belaying and rappelling skills. After gaining comfort on easier climbs, campers will have plenty of opportunities to challenge themselves on a variety of routes throughout the week and work on improving their techniques for climbing slabs, faces, and cracks. As the week progresses, participants will learn more important knots and rope techniques.
RockPro I participants will also get to hike to a variety of mountain summits in Acadia National Park and around Moosehead Lake.
The Acadia Mountain Guides camp curriculum is laid out to allow time to really learn and develop the skills needed to be a smart and compable climber. We believe that building a solid foundation of basic climbing skills is critically important to the development of young climbers and their appreciation and understanding of climbing. And of course, this also translates into taking responsibility for your peers and learning to trust others in all aspects of life.
2023 

Overnight

RockPro I Climbing Camp Dates, Area, Tuition
July 10 – 14
Acadia and Clifton
$650.00
July 24 – 28
Acadia and Clifton
$650.00
 August 14 – 18
Acadia and Clifton
$650.00
Inclusions
Five days of instruction in the given location
Professionally led by trained trip leaders possessing Maine Trip Leader Certification, Wilderness First Responder and PCIA Single Pitch Climbing Instructor certification.
Meals on overnight camps from noon Day 1 until breakfast of final day.
Ratio: maximum of 12 campers/leader when hiking, 6 climbers / leader when climbing.
Exclusions
Length and Difficulty
Drop Off and Pick Up Location for Day Camp Drop Off and Day Camp Shuttle Service
Orono  •  Brewer  •  Ellsworth  •  Bar Harbor

Alpenglow Adventure Sports: 753 Stillwater Ave, Bangor, ME
Drop-Off: 7:30 am    •    Pick-Up: 5:30 pm
Brewer Auditorium: 318 Wilson St, Brewer, ME
Drop-Off: 8:00 am    •   Pick-Up: 5:00 pm
Ellsworth McDonalds: 259 High St, Ellsworth, ME
Drop-Off: 9:00 am    •   Pick-Up: 4:00 pm
Acadia Mountain Guides Office: 228 Main St, Bar Harbor, ME
Drop-Off: 9:30 am    •   Pick-Up: 3:30 pm
Drop off / Pick up for Overnight Camp
Any of the above locations on Day One and any of the above locations on last day.
AMGA ACCREDITED
• Since 1994 •
AMGCS is one of 32 AMGA accredited programs in the US and was one of the earliest to pursue and achieve accreditation. AMGCS is the only climbing school in Maine to remain continuously AMGA accredited. We have had one or more full time AMGA rock guides on staff each year since 1994.
IFMGA Led
Owned by internationally recognized IFMGA/AMGA Mountain Guide Jon Tierney who has been climbing in Acadia since 1982. Jon has over 30 years of local and worldwide experience. The IFMGA requires full AMGA certification as a rock, alpine and ski mountaineering guide.
PCIA Accredited
• Since 2007 •
AMGCS has the distinction of also being accredited to the highest standards of the Professional Climbing Instructors Association. The PCIA requires all staff to be individually trained and certified.
Save 15% on
All Gear and Clothing
Become a client of Acadia Mountain Guides and receive a permanent 15% off MSRP on purchases in our stores or at AlpenglowGear.com.

AMGCS also rents outdoor equipment for your convenience. All clients receive 25% off rental equipment for use on our courses.
See what we have.