Try something new and exciting that will build family trust and confidence while having fun. Our convenient and affordable family program lets you explore the vertical world together.
The Acadia Mountain Guides Climbing School team enjoys climbing with families to provide unique experiences for children and parents. After meeting your family and learning about their experiences and goals, your guide(s) will select an area that will best balance everyone's needs and insure fun and satisfaction. It could be a lower angled climb to a mountaintop, a hidden away canyon, or a sea side vertical playground overlooking Frenchman's Bay. All of our instructors are PCIA or AMGA certified. We believe that we can offer you a wider variety of locations, set-up methods and coaching techniques than any other New England climbing school. Our goal is to involve the whole family in the sport of climbing. And who knows, a future world champion might emerge.
All outings are tailored to your family. We ask that the majority of participants be from one family, although one or two friends are welcome to join. We also ask that at least one adult participates in the program.
Half day programs are available in Acadia National Park. Full-day programs are available in Camden, ME, Clifton (near Bangor), New Hampshire, and along the Kennebec River (The Forks area) and the Penobscot River (Millinocket area).
Date & Location

Daily Availability May-October

Pricing
Personalized Pricing for Your Trip
| | | |
| --- | --- | --- |
| Client:Guide Ratio | Half Day | Full Day |
| 1:1 | $170.00 | $290.00 |
| 2:1 | $110.00 | $185.00 |
| 3:1 | $100.00 | $150.00 |
| 4:1 | $90.00 | $140.00 |
| 5:1 | $80.00 | $125.00 |
| 6:1 | $70.00 | $120.00 |
| 5:2 | $100.00 | $145.00 |
| 6:2 | $90.00 | $130.00 |
| 7:2 | $80.00 | $110.00 |
| 8 – 9:2 | $75.00 | $105.00 |
| 10-12:2 | $55.00 | $90.00 |
Length & Day Plan
Arrive at our shop and check in with the front desk. Here, you'll meet your guide and be outfitted with the proper gear.
Once outfitted with gear and waivers filled out, our guide will ride with you to direct you to the climbing site.
Half-day: At the climbing site, you and your group will climb for about 2-3 hours in some of the most spectacular scenery of Acadia.
Full-Day: Your guide may bring you to one site in the morning, break for lunch at the site or at the Fabbri picnic area, and then another site in the afternoon. Or you may get the most out of one spot and stay there all day, eating lunch at the site. Your guide will decide what is best for your group.
As the session winds down, your guide will start preparing to get you back to the car. From there, your guide will ride with you back to the climbing shop.
After dropping off the gear and saying farewell to you guide, you'll be free to go! Don't forget to check out our shop downstairs for climbing and outdoor gear.
What to Bring?
AMGA ACCREDITED
• Since 1994 •
AMGCS is one of 32 AMGA accredited programs in the US and was one of the earliest to pursue and achieve accreditation. AMGCS is the only climbing school in Maine to remain continuously AMGA accredited. We have had one or more full time AMGA rock guides on staff each year since 1994.
IFMGA Led
Owned by internationally recognized IFMGA/AMGA Mountain Guide Jon Tierney who has been climbing in Acadia since 1982. Jon has over 30 years of local and worldwide experience. The IFMGA requires full AMGA certification as a rock, alpine and ski mountaineering guide.
All instructors are certified as AMGA or PCIA Single Pitch Instructors and all guides have been trained or certified by the AMGA.
PCIA Accredited
• Since 2007 •
AMGCS has the distinction of also being accredited to the highest standards of the Professional Climbing Instructors Association. The PCIA requires all staff to be individually trained and certified.
Save 15% on
All Gear and Clothing
Become a client of Acadia Mountain Guides and receive a permanent 15% off MSRP on purchases in our stores or at AlpenglowGear.com.

AMGCS also rents outdoor equipment for your convenience. All clients receive 25% off rental equipment for use on our courses.
See what we have.
Rock Climbing, Ice Climbing, Hiking
Any body can climb! If you've never climbed or if you're looking for a climbing partner, let Acadia Mountain Guides show you the best climbing spots in Acadia.
This is our home turf and we enjoy sharing it! Acadia Mountain Guides is Acadia's oldest climbing school. School owner, Jon Tierney, has been climbing, instructing and guiding in Acadia since 1983.
Rock climbing in Acadia National Park is an unforgettable experience. Dramatic sea cliffs of pink granite and breath taking inland escarpments offer routes for all abilities, ages, and fitness levels. We guide all over the world, from the Rockies to the Andes, from the Alps to the Himalaya, but we keep our home base here in Acadia. Most locations are minutes from downtown bar harbor. We think that after you have climbed here you'll understand why!
One of the few true sea cliffs in the United States, Otter Cliff is known by climbers around the world. Easy access and a great variety of climbing routes make this a must do for climbers visiting Acadia. Otter Cliff offers a wide range of terrain for beginning through advanced climbers. The walk to Otter Cliff from the park loop road is very gentle and takes less than five minutes. Climbing at Otter Cliff is best done by rappelling down to the base and climbing back to the top.
The Otter Cliff Tick List
In the Groove, Wonder Corner, The Great Chimney, Wonder Wall, Overhanging Corner, Guillemot Crack, Child's Play
Yellow Wall, Rock Lobster, The Flake
Guillotine, Drunken Sailor, A Dare by the Sea, Outer Face, Gallery
These cliffs were featured in the the 2010 Paramount movie Shutter Island for which Acadia Mountain Guides provided site management, rigging and a stunt double climber for Leonardo de Caprio.
South Otter is an extension of Otter Cliffs that AMG pioneered as a great teaching site several years ago. It offers the same vista as Otter but boasts a large selection of easier and less intimidating terrain than the main part of Otter. Much of the terrain can be approached from the bottom making for more social and climber friendly belays. Less than five minutes from the car.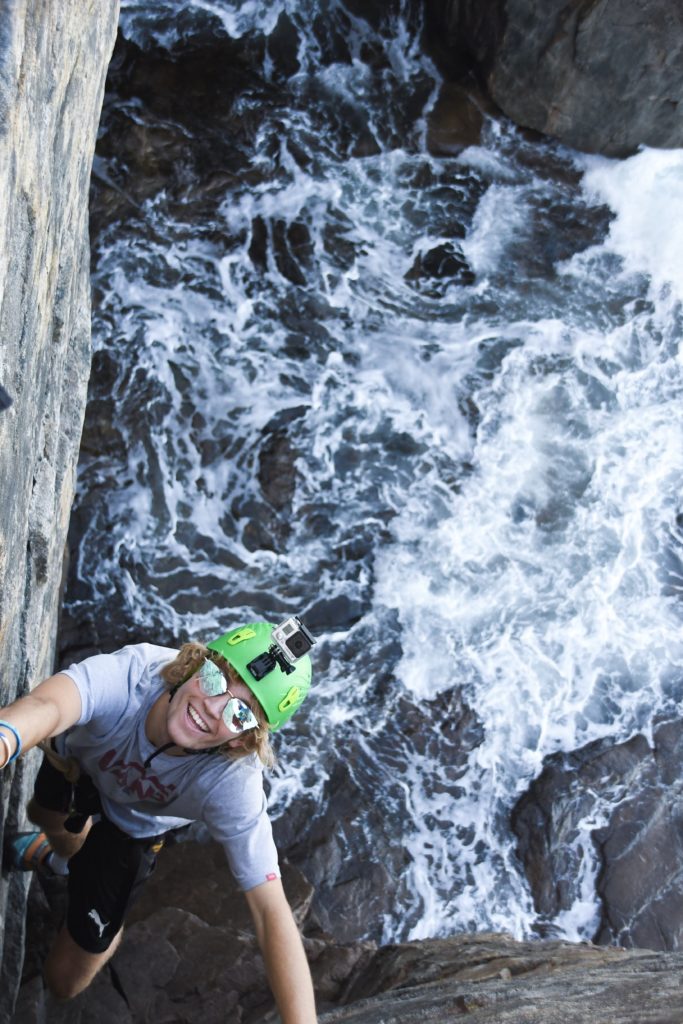 The South Wall (aka The Precipice)
The quality of the rock on the South Wall rivals climbing anywhere. Superb corners and cracks in fine grain pink granite overlooking Frenchmen's Bay! Who could ask for more? Routes here extend up to 300 feet off the ground.
The South Wall features a wide range of climbs – ideal for both beginners and seasoned climbers. We spend many days sharing the rope with experienced climbers who are seeking the benefit of local knowledge, who want to get a lot of climbing done in an day or are just plain without a partner.
The South Bubble overlooks Jordan Pond and the Cranberry Isles. This bottom area features some lower angled climbs that turn from hiking to climbing without you hardly knowing. If you are looking to see how longer climbs get done or want to climb to a mountaintop, the Bubbles offers close to 400′ of relatively easy multi-pitch climbing.
Combine this with a an easy hike to Jordan Pond for tea and you'll think you are in Europe. Ask about it.
The Acadia Mountain Guide Climbing School Difference
Acadia Mountain Guides Climbing School is certified through the American Mountain Guide Association and the Professional Climbing Instructor Association. Acadia Mountain Guides actively supports furthering their guide's development throughout their career. That means our guides are constantly taking steps to progress their skills and will provide you with an exceptional experience. AMG is also a proponent of helping clients reach their goals, whether its having an epic day in the mountains or gaining skills to get into other terrain, Acadia Mountain Guides Climbing School can get you there!
Acadia Mountain Guides Climbing School is also able to offer courses through the Professional Climbing Instructor Association. See what courses we offer and call to arrange courses that fit your schedule.